Back to all posts
Posted on
May Monthly Update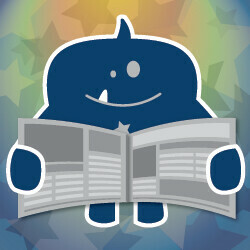 Notes from the Principal's Desk:
We have so much to celebrate over this past month as there were a number of huge accomplishments that our children had. Our basketball and track teams represented the school well, consistently displaying sportsmanship and respect for their opponents. Owen, Adia and Dylan performed fantastically during the Eik Island Young Speakers' Competition, and Dylan finished in first place out of all grade 6 students within the division!
This year's Education Week (Learning is a Journey) was another success, highlighted by EIPS Director Deb Barron teaching the entire school (and about 70 parents) how to tap dance during our assembly. She challenged everyone to to take a risk and "learn something crazy" this week.
The annual EIPS parent survey results have been released and can be found here. I would like to thank the 90 parents who took time to fill it out. 90 parents is incredibly high, particularly since we are a smaller school after last year's boundary changes. Once again, our results are extremely positive, indicating to us that we are on the right track towards supporting your children. Thank you for your support!
May 10th is Bear Witness Day in support of Jordan's Principle - a child first principle and legal rule named in memory of Jordan River Anderson. It ensures First Nations children receive the services and supports they need when they need them. On Thursday, Elder Bert will be in to join students in honoring this day. Students may bring a stuffed bear to class in support of Bear Witness Day if they would like to on Thursday.
On the May 17th Professional Development Day, most teachers will be attending a morning session with Dr. Jody Carrington which will focus on building relationships with students. A few other staff will be attending a session about concept-based curriculum in an effort to prepare for the release of the new curriculum from the government. In the afternoon, EIPS' First Nations, Metis and Inuit consultant Cheryl Devin will be presenting to a number of school staffs on the upcoming changes to our Teaching Quality Standard that come into affect in September.
We are looking forward to seeing and catching up with many parents in the upcoming weeks at our major events. The Spring dance is on May 24th and will be a beach theme. We hope to see all of our students and their families gettin' jiggy with it that night.
May 9th marks the start of Provincial Achievement Exam season for our grade 6s. Thursday's exam is English Language Arts Part A. Students will be writing a newspaper article and story based upon a picture prompt. We wish all of our grade 6 students the best of luck on their exam!
Monday, June 3rd will be our annual Volunteer Coffee Drive, starting at 7:30 am in front of the school. Staff will be outside flagging down traffic to pull over and enjoy a coffee and donut on us. We hope that all of our volunteers and community members will be able to stop by so we can show our appreciation for all of your support.
Parental Involvement

We would like to thank the Parent's Association for graciously funding a $10,000 book purchase for classroom libraries! This is an excellent start to add in additional books for each classroom which are leveled for students. Next year we will be implementing a program called Reader's Workshop, which requires children to have access to many books at their level. We're also looking for donations of a variety of book series to help supplement classroom libraries as well.
This year's staff appreciation lunch was excellent! There was enough food, drinks and desserts to last the staff for a few days. We are overwhelmed by the generosity of the parents who brought items in. Thank you so much!
We also need to give a huge shout out to all of the parent volunteers who have helped at the school over the past month, along with our School Council and Parent's Association. Thank you to Ashlee, Kellie, Colleen, DeAmber, Julie, Zoe, Jamie, Tara and Marcie for helping with hot lunch!
Our next meeting is on Tuesday, May 28th at 6:30 PM. It is our final meeting of the school year, where we'll decide upon which activities and initiatives to fund raise and commit to in the 2019-20 school year. Your input would be greatly valued!
Calendar and Important Dates:
MAY 2019
May 6 Bus Driver Appreciation Day
May 8 Pitch In! 2:30 PM
May 9 Gr.6 PAT - ELA Part A 9:00 AM
May 9 Elder Bert visit for Bear Witness Day
May 9-10 Mother's Day Spa in Kindergarten
May 10 Bear Witness Day
May 14 Panorama Photo 2:30 PM
May 16 Frisbee Rob presentations on the Unplugged Challenge
May 17 Professional Learning Day - No School
May 20 Victoria Day – No School
May 24 Spring Dance 7:00 PM
May 28 Gr.6 Field Test - ELA Part B 9:00 AM
May 28 Kindergarten Open House 5:30 PM
May 28 Parent Council 6:30 PM
May 30-31 UofA Ringette
May 31 Gr.6 Field Test - Math 9:00 AM
JUNE 2019
June 3 Volunteer Appreciation/Coffee Drive-Through 7:30 AM
June 5 Assembly 9:00 AM
June 5 Early out 2:13 PM
June 6 Gr.6 Science Bennett Centre Review
June 7 Sports Day
June 11 Gr.6 Field Test - Social Studies 9:00 AM
June 13  Earth Ranger's Assembly 9:00 AM
June 13 Gr.6 Field Test - Science 9:00 AM
June 17 Gr.6 PAT ELA Part B
June 18 Gr.6 PAT Math Parts A&B
June 19 Gr.6 PAT Social Studies
June 20 Gr.6 PAT Science
June 21 National Indigenous Peoples' Day
June 25 Grade 4, 5, 4-6G Swimming
June 26 Year End Assembly/Slideshow & Year End Talent Show 10:30 AM
June 26 Gr.6 Farewell 1:00 PM
June 27 Last Instructional Day
June 27 Report Cards issued 3:30 PM
School Information Items:
Greetings from our new Solutions Navigator, Miss V:
I have worked with children and youth for 13 years in a variety of settings, including group homes, in clients' homes, and in schools. I have always worked in supportive roles with both children and parents, however, I have also assessed and taught parenting and I was involved in decision making processes with Children's Services. I have been included in court proceedings with families and provided evidence to support families in being reunited with their children.
I began my career in Sydney, Australia and I have been living in Canada for 8 years – both in Edmonton and Sherwood Park. I am currently completing my Masters in Counselling Psychology and I am at the end of my degree. I will be completing my practicum placement in December of this year, where I will be providing narrative therapy to children in schools in Pembina school district. I hope to one day register as a Psychologist in Alberta.
I look forward to assisting the children at Woodbridge Farms Elementary in any way that I can, including one on one counselling sessions and groups as needed. I am also an employee of Family and Community Services at Strathcona County, where I provide parents and adults with resources and referrals to programs that may be helpful to them. I look forward to connecting with parents who are interested in additional assistance at the school.
Thank you,
Oana Vonu-Boriceanu
Kindergarten Open House
Do you have a child registered in kindergarten next year? If so, make sure to attend our upcoming Kindergarten Information Night on May 28th at 5:30 PM:
tour the school;
meet the teachers;
gain insight on play-based learning; and
see what a typical day looks like.
Elk Island Public Schools has also put together an online toolkit to make the transition to school as smooth as possible. The kit includes information about registration, important dates, programming options, what to expect, eligibility, how to find your designated school, transportation and more. Find it by visiting www.eips.ca/programs-services/kindergarten.
Additional information regarding Woodbridge Farm's kindergarten program, is available on our school website at https://www.woodbridgefarms.ca/programs/kindergarten.
NOTE: To be eligible to attend kindergarten in the 2019-20 school year, children must be five years of age on or before Dec. 31, 2019.
Do you have unused books at home?
On our school website, we have a list of series books that we're looking for. If you have gently used books from our list that you would like to donate, please bring them by the school. These books will be used in classroom libraries throughout the school. To see the list check out our Learning Commons page.
Division Information Items:
2018-19 EIPS Parent Survey Results Report 
The results are now available for the 2018-19 EIPS Parent Survey conducted in March. Thank you to all families who took the time to share their feedback with the Division. The survey included 21 questions related to the three priorities outlined in the EIPS 2018-22 Four-Year Education Plan:
Priority 1: Promote growth and success for all students
Priority 2: Enhance high quality learning and working environments
Priority 3: Enhance public education through effective engagement, partnerships and communication
The overall Division results represent 3,713 responses from parents and guardians across the Division. This was an increase in responses from 2,918 in the previous year.
The feedback gathered will help our school and the Division measure its progress toward meeting the priorities and goals outlined in the EIPS 2018-22 Four-Year Education Plan and develop strategies to better serve students and the wider community moving forward. 
Complete Parent Survey results for the Division are available by visiting www.eips.ca/about-us/planning-and-results/parent-survey.
Woodbridge Farms' Parent Survey results are available by visiting http://www.woodbridgefarms.ca/download/173665
THANK YOU! Driver Appreciation Day is May 6
Join us on May 6 as we recognize and thank our school bus operators for keeping the safety of our students their first priority. We encourage you, and your children, to take a moment to say thanks to our bus operators—who go above and beyond to provide safe and timely transportation to our students.
On behalf of Woodbridge Farms School, THANK YOU to all of our school bus operators for a job well done.
Student Transportation: 2019-20 registration is now open
Planning to use Student Transportation in the 2019-20 school year? If so, make sure your child is registered so Elk Island Public Schools (EIPS) can plan routes and send your child a bus pass before the first day of school.
All students who indicated needing transportation services through the pre-enrolment process are now registered. Families registered will received tentative route schedules and invoices by the end of the month—fees are due June 30, 2019.
For those students who didn't indicate needing transportation service through the pre-enrolment process and want to now register, simply contact EIPS Student Transportation at 780-417-8151 or email st@eips.ca.
For more information about EIPS Student Transportation visit www.eips.ca/transportation.
NOTE: Fees can be paid online using the PowerSchool Parent Portal or in-person at the Student Transportation office—683 Wye Rd., Sherwood Park. The office will remain open during the summer months operating during the same hours as the EIPS Central Services office.
Little Elk Island Adventure: Registration
Elk Island Public Schools is once again running Little Elk Island Adventure, a fun and informative program for first-time school bus riders.
Annually, Student Transportation offers the Little Elk Island Adventure to new riders and their parents. The program's aim is to help ease any anxieties a family may have about riding the bus before even starting school. Through a series of activities, riders learn about: school bus safety, danger zones, tips on boarding and how to sit properly on the bus. After that, both the children and parents hop on the bus to practice what they've learned and then venture out on a short ride.
The Little Elk Island Adventure is for first-time school bus riders entering the 2019-20 school year. Sessions and times are available at these locations:
Location                                              Date                                        Time
A.L. Horton Elementary                      August 20                                6 p.m.
EIPS Central Services                          August 20                                6 p.m.
EIPS Central Services                          August 21                                6 p.m.
EIPS Central Services                          August 22                                2 p.m.
EIPS Central Services                          August 22                                6 p.m.
EIPS Central Services                          August 26                                9 a.m.
EIPS Central Services                          August 26                                6 p.m.
EIPS Central Services                          August 28                                6 p.m.
SouthPointe School                             August 27                                2:30 p.m.
SouthPointe School                             August 27                                6 p.m.
A.L. Horton Elementary is located at 5037 48 Ave, Vegreville
EIPS Central Services is located at 683 Wye Rd., Sherwood Park
SouthPointe School is located at 11 SouthPointe Blvd., Fort Saskatchewan
Space is limited and pre-registration is required.
More information regarding busing for kindergarten students is available at: www.eips.ca/transportation/kindergarten-busing-faq.