Back to all posts
Posted on
December Monthly Update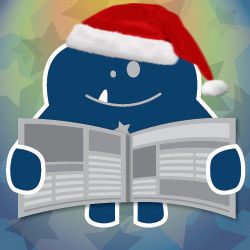 Notes from the Principal's Desk: 
The Christmas Spirit is alive and well at Woodbridge! Over the past couple of weeks students have been bringing in items to donate to the Strathcona Christmas Bureau for families in need over the holidays. We collected enough items to fill 14 paper boxes! Thank you to everyone who could help out. The generosity of our community is incredible!
Last week, we met with the Board Chair and school Superintendents in our annual Results Review. It was a very positive experience as we once again shared our fantastic achievement and parent survey results as well as our new School Education Plan. Board Chair Boymook was especially pleased with our results and wanted to congratulate staff, students and the parent community for their hard work.
We are looking forward to seeing everyone at our annual Christmas Concert this year. This year's concert will be held at Salisbury Composite High School on December 13th at 7:00 in the evening. 
A number of fun events have been planned for the final two weeks before the Christmas break. To go along with classroom activities, we will be having sing a long mornings on the 20th and 21st in the gym. On Friday, December 21st, we will be having Polar Express Day. Students will be encouraged to wear pyjamas that day and we will watch Polar Express in the gymnasium with hot chocolate and cookies. A huge THANK YOU goes out to parent council for supplying the tasty treats!
From all of the staff at Woodbridge Farms we hope you have a wonderful, safe and restful Christmas break filled with family and friends!
Parental Involvement: 
THANK YOU to our school council and parent's association executive, as well as all of the volunteers who helped out at our hot lunch this past month. Thank you Jamie, Kim, Stephanie, Alexia, Stacey, Callie, Julie, Tara, Kelli, Laura, Jenny, Kent and Ashley. 
Your children and the rest of the school appreciate the time that you have given to help support our many initiatives. 
Calendar and Important Dates: 
DECEMBER 2018
Dec 7 Wee Read Reading Rally 10:30 AM
Dec 12 DARE Grade 2:00 PM
Dec 13 Christmas Concert @ SAL 7:00 PM
Dec 14 Ugly Christmas Sweater Day
Dec 14 Kindergarten Christmas Concert 1:30 PM
Dec 17 Christmas Hat/Headwear Day
Dec 17-19 Wee Wonderland
Dec 20-21 Sing-a-longs
Dec 21 Polar Express Day
Dec 21 Hot Lunch - Nitza's
Dec 21 Last Day before Christmas Break
Dec 22-Jan 6   Christmas Break
JANUARY 2019
Jan 7 Classes Resume
Jan 9 Assembly 9 AM
Jan 9 Early Out 2:13 PM
Jan 11 Monthly Update Published (Newsletter)
Jan 18 Hot Lunch - Press'd
Jan 23 School Council & Parent's Association 6:30 PM
School Information Items:
Wee Read Reading Rally
On December 7th from 10:30-11:30 a.m., we will be hosting a reading rally event as a part of the Wee Read Program. The Reading Rally will bring together educators, students, parents, volunteers, and businesses to celebrate reading. Our special guest (???) will read a story to everyone. Then, the children will have an opportunity to be read to by adult volunteers and share the joy of reading in small groups. At the end of the event, each child in Kindergarten and grade 1 will receive a bag that includes 2 books and a few goodies to take home.
Wee Read Little FreeB Bookshelf
You may notice a new bookshelf in the foyer of the school. We are one of five Alberta Reads Network schools that were chosen to pilot the "Little FreeB Bookshelf" program through Alberta Reads. This program will launch in the greater Edmonton region with Goodwill industries providing free, gently used books to help feed our bookshelf. Students and community members are encouraged to take a book from the shelf to read. You can always leave a gently used book in its place if you'd like as well. This will be another great way to promote reading within our community!
School Start Time
In order to ensure to avoid lost instructional time in the mornings, we adjusted our bell schedule by three minutes to begin the school year. Last year we started school at 8:42, while this year we begin at 8:39. There are still students who are having difficulty arriving at school on time. Punctual attendance at school is important to ensure that students do not lose any instructional time and start their day off well. We appreciate your continued support in getting students to school on time each day.
Wee Wonderland
Wee Wonderland is back from December 17-19th! Students will have forms sent home right away which they can return next week. During the event, classes will come down to the shop where students can purchase gifts for their loved ones. Any donations of gift wrap or bags can be dropped off at the school office. We are in need of volunteer Shopping Elves each day. Please sign up here if you can help out: https://www.volunteersignup.org/WPPFH
More information about Wee Wonderland can be found here
Division Information Items: 
Merry Christmas and Happy New Year from the Board of Trustees
As the holiday season approaches and we prepare for the winter break, I want to take the opportunity to extend warm wishes to all our students, staff and families on behalf of the Elk Island Public Schools Board of Trustees. We hope you and your loved ones have a wonderful and safe Christmas season, and a new year filled with joy.
We look forward to seeing everyone back at school on Monday, Jan. 7, 2019.
Thank you and best wishes,
Trina Boymook, EIPS Board Chair


Kindergarten Registration Starts Soon!
Is your child turning five on or before Dec. 31, 2019? If so, it's almost time to register for kindergarten.
Kindergarten registration opens for the 2019-20 school year on Feb. 1, 2019.
To help families prepare, Elk Island Public Schools has put together an online toolkit—available at www.eips.ca/kindergarten—to make the transition as smooth as possible. The kit includes information on registration, important dates, programming options, what to expect, eligibility, how to find your designated school, transportation and more.
Additional information regarding kindergarten can be found on our school website at http://woodbridgefarms.ca/programs/kindergarten


Elk Island Public Schools 2019-20 Registration Drive
All student registrations for the 2019-20 school year—including kindergarten registration, returning student registration and new student registration—will take place online commencing on Feb. 1, 2019.
Kindergarten: Your child is eligible to enrol in kindergarten if he/she will be five years old on or before December 31, 2019.
Returning Students: If your child will be returning to an EIPS school next fall, this is when you will confirm that registration and select your requested school—whether your child will attend your designated school or will request a non-designated school, your family will complete this process.
New Students: Students new to EIPS for the 2019-20 school year will also complete their registration at this time.
All registration forms will be online for families to complete. Additional information, including a list of schools with open and closed boundaries, will be posted on the Division website in the new year.

Winter Break
Woodbridge Farms School will close for the winter break at the end of the day on Dec. 21, 2018 and will reopen on Jan. 7, 2019. During this time, if you have any school-related questions or concerns, contact Central Services at Elk Island Public Schools.
EIPS Central Services Winter Break Hours
Closed                  December 22-January 1
Open                     January 2-4, 8:30 a.m. to 4:30 p.m.
*for location and contact information visit www.eips.ca.
From everyone at Elk Island Public Schools, we wish all of you a happy holiday season and a wonderful New Year.