Back to all posts
Posted on
June Monthly Update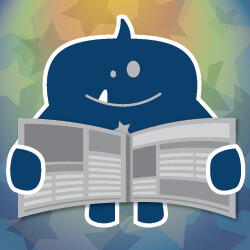 Notes from the Principal's Desk:
The final month of our school year is incredible busy with lots of special events and field trips planned (check out our calendar for the latest dates and times). Our grade 6s are in their final month of elementary school and will be writing their Provincial Achievement Exams from June 17th to 20th. We wish them the best of luck on their exams and we know they will do exceptionally well!
At the end of the month we will have our annual talent show which is an excellent opportunity for many of our students to highlight their passions and areas of specialty. Be sure to check out our student art gallery on the way in! Everyone is welcome to attend our final assembly at 9:00am on June 27th. We will be handing out our final awards of the year, including this year's Spelling and Math Contest Winners. 
Our Coffee Drive Thru was a great success! Thank you to all of the volunteers and community members that had time to stop by for a coffee and a donut to start your day. We are beyond grateful to all of the volunteers that have helped out during the school year. We couldn't provide so many opportunities without your support! 
At last week's School Council meeting I shared information about our budget forecast and class configuration for the next school year. Because of a large grade 6 class leaving and a small Kindergarten class coming up, we will have 2 less classes next year. With budget uncertainty at this point, we have planned conservatively in order to be as prepared as we can be when the government releases the budget in the Fall. There have been some staffing changes already so far with a few more to come. Final staffing changes will be shared in a special update right before summer.
For next year's fees, noon supervision will be increasing slightly (under $5) and field trip costs will remain the same. Agendas will also be available for a small fee of $3.00. 
Parental Involvement

We would like to thank the Parent's Association for graciously funding another $10,000 book purchase for classroom libraries! This is an excellent start to add in additional books for each classroom which are leveled for students. Next year we will be implementing a program called Reader's Workshop, which requires children to have access to many books at their level. We're also looking for donations of a variety of book series to help supplement classroom libraries as well.
This year's staff appreciation lunch was excellent! There was enough food, drinks and desserts to last the staff for a few days. We are overwhelmed by the generosity of the parents who brought items in. Thank you so much!
We'd also like to congratulate and thank the Parent's Association for making a donation for the Stollery Hospital to Nitza's Pizza after they supplied pizza for all staff and students during Sports Day.
We also need to give a huge shout out to all of the parent volunteers who have helped at the school over the past month, along with our School Council and Parent's Association. Thank you to Tara, Julie L., Ashlee, Justin, Alexia, Julie B., Colleen, and Zoe!
Calendar and Important Dates:
JUNE 2019
June 3 Volunteer Appreciation/Coffee Drive-Through 7:30 AM
June 5 Assembly 9:00 AM
June 5 Early out 2:13 PM
June 6 Gr.6 Science Bennett Centre Review
June 7 Sports Day
June 11 Gr.6 Field Test - Social Studies 9:00 AM
June 13  Earth Ranger's Assembly 9:00 AM
June 13 Gr.6 Field Test - Science 9:00 AM
June 17 Gr.6 PAT ELA Part B
June 18 Gr.6 PAT Math Parts A&B
June 19 Gr.6 PAT Social Studies
June 20 Gr.6 PAT Science
June 21 National Indigenous Peoples' Day
June 24 Grade 4 Strathcona Wilderness Center Field Trip
June 25 Grade 4, 5, 4-6G Swimming
June 26 Talent Show 10:30 AM
June 26 Gr.6 Farewell 1:00 PM
June 27 Last Instructional Day
June 27 Year End Assembly/Awards 9:00 AM
June 27 Report Cards issued 3:30 PM

School Information Items:
Do you have unused books at home?
On our school website, we have a list of series books that we're looking for. If you have gently used books from our list that you would like to donate, please bring them by the school. These books will be used in classroom libraries throughout the school. To see the list check out our Learning Commons page.
19-20 School Supply Lists
Shortly, our school supply lists for 2019-20 school year will be posted on our website. You can check out the School Supply list page for updates.

Summer Time Work at the Farm
Over the summer we have two exciting changes happening. First, our outer wooden doors will be replaced with brand new aluminum doors! These doors will have more windows which will bring in more light to all of our entrances and provide a much needed update to the look of the school. We are also having our gymnasium floor resurfaced. It will be stripped right down to bare wood, stained, re-lined and sealed for the new school year. This hasn't happened since the floor was originally put in back in 1980! Our gym will look brand new with bright floors when everyone returns in the fall!
Division Information Items:
Summer Hours at Elk Island Public Schools
Throughout the summer break, Woodbridge Farms is closed and will reopen on August 27th at 9:00am. If you have any school-related questions or concerns while the school is closed, contact EIPS Central Services—the office is open all summer to complete year-end activities and prepare for the 2019-20 school year.
EIPS Central Office Summer Hours
Open                     Monday to Friday             8:30 a.m. to 4:30 p.m.
Phone                   780-464-3477
Address                683 Wye Rd., Sherwood Park

Statutory Holidays
Closed                  Monday, July 1                  Canada Day
Closed                  Monday, August 5            Heritage Day
Closed                  Monday, September 2      Labour Day 
NOTE: Student Transportation will also remain open during the summer months and operate during the same hours as EIPS Central ServicesOffice.
Access to Student User Accounts for Students Leaving EIPS
If your child is graduating from or leaving EIPS at the end of the school year, they must ensure any information in their school accounts they wish to retain is downloaded onto a personal device or stored on a removable disk (for example, a USB key or portable hard drive) before leaving. Any files saved on their personal share drive (Z:) will need to be downloaded prior to the last day of classes on June 28. Any content in their Google accounts will need to be downloaded prior to September 1. Google files can be downloaded individually or in bulk with Google Takeout, https://takeout.google.com. All remaining information will be deleted and access to these accounts will be deactivated after these dates. For more information, contact the school at 780-464-3330. 
Student Transportation 2019-20
Planning to use Student Transportation in the 2019-20 school year? If so, make sure your child is registered so Elk Island Public Schools (EIPS) can plan routes and send your child a bus pass before the first day of school.
All students who indicated needing transportation services through the returning student registration process are now registered. Those families have also received tentative route schedules and invoices—all fees are due June 30, 2019.
For those students who didn't indicate needing transportation service through the returning student registration process and want to now register, simply contact EIPS Student Transportation at 780-417-8151 or email st@eips.ca.
For more information about EIPS Student Transportation visit www.eips.ca/transportation.
NOTE: Fees can be paid online using the PowerSchool Parent Portal or in-person at the Student Transportation office—683 Wye Rd., Sherwood Park. The office will remain open during the summer months operating during the same hours as the Central Administration office.
Little Elk Island Adventure: Registration
Elk Island Public Schools is once again running Little Elk Island Adventure, a fun and informative program for first-time school bus riders.
Annually, Student Transportation offers the Little Elk Island Adventure to new riders and their parents. The program's aim is to help ease any anxieties a family may have about riding the bus before even starting school. Through a series of activities, riders learn about: school bus safety, danger zones, tips on boarding and how to sit properly on the bus. After that, both the children and parents hop on the bus to practice what they've learned and then venture out on a short ride.
The Little Elk Island Adventure is for first-time school bus riders entering the 2019-20 school year. Sessions and times are available at these locations:

Location                                              Date                                        Time
A.L. Horton Elementary                      August 20                                6 p.m.
EIPS Central Services                          August 20                                6 p.m.
EIPS Central Services                          August 21                                6 p.m.
EIPS Central Services                          August 22                                2 p.m.
EIPS Central Services                          August 22                                6 p.m.
EIPS Central Services                          August 26                                9 a.m.
EIPS Central Services                          August 26                                6 p.m.
EIPS Central Services                          August 28                                6 p.m.
SouthPointe School                             August 27                                2:30 p.m.
SouthPointe School                             August 27                                6 p.m.
A.L. Horton Elementary is located at 5037 48 Ave, Vegreville
EIPS Central Services is located at 683 Wye Rd., Sherwood Park
SouthPointe School is located at 11 SouthPointe Blvd., Fort Saskatchewan 
Register Now
Space is limited and pre-registration is required.
More information regarding busing for kindergarten students is available at: www.eips.ca/transportation/kindergarten-busing-faq.
Tools for School
Woodbridge Farms has once again partnered with the United Way for the 2019-20 Tools for School campaign. Annually, Tools for School provides backpacks and school supplies to students in kindergarten through Grade 12 whose families have limited resources. If you're a parent or know a parent who needs access to the program, contact our school directly. We'll discretely provide the backpack to your child at the beginning of the 2019-20 school year.
Alternatively, if you'd like to donate to the program, you can pick up few extra supplies when you're out shopping for back to school. Drop-off boxes are located at various businesses in the community during the summer months—including Staples and EIPS Central Services office. All supplies donated within our community are invested back into our region.
For more information about Tools for School, contact Teri Pearn at the school or call the EIPS Central Services at 780-464-3477.