Back to all posts
Posted on
Monthly Update - October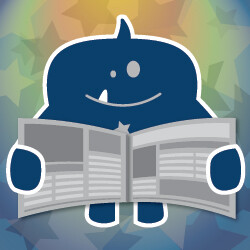 Notes from the Principal's Desk:
After a busy September, students are starting to settle into their classrooms and routines comfortably. Fall is almost over before it began and students have already had to trade their sweaters in for winter coats. Our final student count for this school year is 338 students, down from 458 last year with the boundary changes.
I would like to thank all of the families who were able to attend our annual Meet the Staff Barbecue. The snow outside didn't deter anyone from coming and we were able to cozily accommodate all families in our gym. 
Read-In Week was another smashing success this year. We had countless numbers of guest readers from in and around our school community. Highlights of the week included "Dress as Your Favourite Book Character" day, the return of Mr. D and our day with Shirley Hill, a fancy shawl dancer from Treaty 8 territory. We closed out our Read-In Week with a special assembly where Mrs. Davies performed a  story for all students.
We have exciting news to share with the community. On Thursday, October 11, the Honourable David Eggen, Minister of Education, will be visiting Woodbridge Farms Elementary to tour the school, learn about programs and activities, and interact with students. We are so fortunate to be able to share all of the wonderful things we do at Woodbridge Farms with the Minister and are looking forward to meeting him.
Children's author Marty Chan will be coming to Woodbridge Farms and working with all of our classes for two weeks starting on October 15th. He will be focusing on Folk Tales for classes in Kindergarten through Grade Three and Mystery Writing for classes in Grades Four through Six. We are excited to learn from Marty over these two weeks.
We would like to thank the School Council and Parents' Association for their continued support of our school community. Money generated from different fundraisers is used to support various initiatives that directly impact all of your children. Please note that all parents/guardians are welcome at every meeting and your input is greatly valued. The next meeting will be on Wednesday, October 24th at 6:30p.m. in the school library.  
Have a great October and a Happy Halloween!
Andy Cunningham
Principal
Calendar and Important Dates:
October:
Oct 1–6 Read in Week: Bringing Stories to Life
Oct 3 Monthly Assembly 9:00 AM
Oct 3 Early Out Day
Oct 3 Box Cars & One Eyed Jacks Family Night 6:30 PM
Oct 5 World Teachers' Day
Oct 5 Professional Learning Day – No School
Oct 8 Thanksgiving Day – No School
Oct 11 Minister of Education Visit
Oct 15-19 Marty Chan Residency – Division 1
Oct 16 Photo Retakes
Oct 22-26 Marty Chan Residency – Division 2
Oct 24 School Council & Parents' Association Meeting 6:30 PM
Oct 26 Family Dance
Oct 29-30 Annual Bus Evacuation Drill
Oct 31 Halloween (PM activities)
School Information Items:
Newsletter Format 
Moving forward, we will be utilizing the School News section of our school website to publish Monthly updates instead of the Monthly Newsletters we previously sent home or published as a separate document. This change will not affect any of the content you would normally receive on a monthly basis. Our plan is to simplify our information sharing processes and increase the usability of our school website over time. 
World Teachers Day – October 5th 
World Teachers' Day is an annual initiative that heightens awareness and appreciation of the teaching profession, and a day to acknowledge teachers' dedication to preparing children and youth for the future. We would like to say a big THANK YOU to the School Council for recognizing the hard work and dedication of the Woodbridge staff at our last staff meeting by providing snacks and treats for everyone on behalf of our parent community. 
Literacy Center 
You may have noticed some familiar faces around Woodbridge Farms over the past month. Mrs. Martin-Spady, now an elementary literacy consultant, and her colleague, Mrs. Balog, have taken up residence at the Farm. The division Literacy Center (as it is now known), will host professional development opportunities for elementary teachers and administrators from around the division during various times throughout the school year. Elk Island Public Schools has moved all of their consultants into various schools in an effort to increase availability and access to help build teachers' capacity in the classroom. 
School Messenger 
To receive updates and information from the school (including emergency updates) please make sure you have subscribed to our School Messenger system. Follow the instructions found on the EIPS website: https://www.eips.ca/contact/subscribe 
Halloween Family Dance 
Our annual Halloween Family Dance will take place on October 26th. We cannot wait to see all of our families in their costumes for this fun filled evening.  
Boys and Girls Club
Follow the link to our Boys & Girls Club Page where you'll find information about the following fun opportunities for your children:
Before and After School Care
Girls Night
Master Chef Program
Art Night
Sports Night
Division Information Items:
Celebrating World Teachers' Day: October 5
October 5 is World Teachers' Day! Launched in 1994 by the United Nations Education, Scientific and Cultural Organization (UNESCO), World Teachers' Day is celebrated annually around the world as a way to recognize teachers and the integral role they play in providing quality education to students. On October 5, Elk Island Public Schools (EIPS) encourages all students, families and community members to show their appreciation for their teachers and the positive impact they make on our lives.
EIPS extends its heartfelt thank you to all its teachers for their dedication, hard work and commitment in guiding and educating our students through their kindergarten to Grade 12 years.
Pay School Fees Online!
School fee information for the 2018-19 school year is now posted on the PowerSchool Parent Portal. All fees are due within 30 days of being posted. To access your fee information, simply log in to the PowerSchool Parent Portal and go to "Student Fees." There you can view your fees and pay them online using Visa, MasterCard or INTERAC Online—when available from your financial institution.
Don't forget to also log in to the PowerSchool Parent Portal regularly throughout the year. Fees are often added to your child's account to cover the cost of various school activities such as field trips, class projects, athletic-team fees and more.
If circumstances exist where you are unable to pay your fees, you can apply to have fees waived by submitting an Application for a Waiver of Fees. The application deadline is Dec. 15, 2018.
For more information about school fees, waivers and payment deadlines, visit www.eips.ca/schools/fees and http://woodbridgefarms.ca/parents/fees. Alternatively, contact Karlie Wells, School Secretary at Woodbridge Farms School at 780-464-3330.
School Bus Safety Week: October 22-26
Schools throughout Elk Island Public Schools (EIPS) are celebrating School Bus Safety Week October 22-26. The theme: School Bus…Bully Free Zone, which is all about promoting the importance of healthy relationship among students, staff and school bus operators. Throughout the week, various activities are planned including information sessions, bus-safety lesson plans and bus-evacuation drills.
As part of School Bus Safety Week, we'd like to remind our students and our families all EIPS school buses are equipped with both a bus-pass scanner and GPS technology, which allow Student Transportation to better monitor and manage its more than 170 buses and 600 bus routes. Thanks to this technology, parents and students also have access to the Versatrans My Stop app, a mobile tool to help determine the location of a bus, projected arrival times and when a child scanned onto a bus.
More information about School Bus Safety Week and EIPS Student Transportation services can be found by visiting www.eips.ca/transportation or by contacting Student Transportation (780-417-8151, st@eips.ca) directly.
REMINDER: Make head checks for lice a regular routine!
Head lice is one of the most common problems faced by school-aged children and their families. Typically, head lice are tiny, greyish-brown insects that live on the scalp and lay their eggs, or nits, in the hair close to the scalp—itching is the main complaint. Lice don't jump from head to head nor are they dangerous. Having a head lice infestation, however, can cause stress, anxiety and hardship for staff, students and parents. As such, it's essential each of our families do their part at home by undertaking weekly routine head checks and, if head lice and nits are found, physically removing them.
While head lice prevention and control is primarily the responsibility of the parent, the school does work discreetly with the teacher, students and families to prevent further transmission. To prevent the spread of head lice, we strongly encourage you to speak to your child about preventative behaviour such as avoiding head-to-head contact and not sharing combs, hats, pillows and hair accessories. It's also important to teach children not to tease other students about head lice—anyone can get head lice. If head lice are found on your child, notify the school, physically remove the lice and nits using the proper lice comb, and keep your child home until all signs of active head lice are gone.
For more information about head lice prevention and treatment, visit www.eips.ca/programs-services/healthy-schools/head-lice. Alternatively, you can contact the school at 780-464-3330.
No Child Without: Free MedicAlert for students
In our ongoing effort to provide safe and caring schools for our students, Woodbridge Farms School continues to be registered in the Canadian MedicAlert Foundation's No Child Without program. The program is a national initiative that provides no-cost MedicAlert services to children—between the ages four of 14—who have chronic health conditions. The goal is twofold: to help children with severe allergies, medical conditions or special needs and to assist schools with medical-emergency plans for students.
Once a child is registered, their school is provided with advice on a medical-emergency plan for that student and given a list of medications, allergies and medical conditions the student has. If your child has a serious medical condition or allergy and could benefit from MedicAlert services, contact the school office at 780-464-3330. To learn more about the No Child Without program, visit www.nochildwithout.ca.
The New Teen Trend: Juuling
Here's what it is and how it works
A recent trend called "juuling" has come to our attention and we wanted to make you aware so you can discuss the issue with your child directly.
A Juul is a brand of electronic cigarette that looks like a USB drive—rather than the more familiar e-cigarette or vaping systems. The pods that are used for juuling contain a highly concentrated form of nicotine but because the vapour smells sweet or fruity, and as a result, you may not be aware when it's in use. The size of the device also makes it difficult to detect.
Smoking and vaping in any form, including Juuls, are not permitted either in school or on school grounds (see "EIPS Administration Procedure 162 Smoke-Free Facilities" at www.eips.ca/about-us/administrative-procedures/162). Students who don't respect the procedure risk facing disciplinary action at the school level.
More importantly, though, the inhalation of tobacco and other related substances poses a significant health risk for students and those around them. Nicotine and other carcinogens can impact student behaviour, concentration, memory and an ability to learn. Many of these products contain ingredients that are highly addictive and harmful to the long-term health and well-being of individuals, particularly young people.
Please consider talking with your child about the negative effects of smoking, vaping and using electronic cigarettes.
For more information, see this Global News segment: https://globalnews.ca/news/4194090/what-is-juuling/.