Back to all posts
Posted on
Monthly Update - September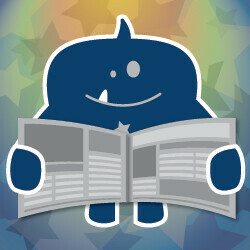 Notes from the Principal's Desk:
Welcome back! It has been far too long since the school has been filled with children. There was a lot of fear and worry about coming back to school this year, but the energy and excitement students have brought in their first days of school has been revitalizing for everyone.
We would like to thank everyone for your patience and understanding as we have navigated school re-entry, as well as how respectful everyone has been when following our new guidelines. We know that these new requirements are challenging for many families and are hopeful that they are only short term changes. Over time, we will make small modifications to our school plan to make it more efficient. For the latest information and updates, please make sure you read the EIPS School Re-entry Plan as well as our school re-entry plan.
Over the summer, our new library shelves were installed. It has drastically changed the look and feel of the room, giving it a much needed face lift. We have also purchased over $15,000 worth of new books to update our (formerly) aging collection and are still adding titles from the Adopt a School fundraising that was done last year. We can't wait until we can bring students in and share the excitement we have over our newly revitalized space.
Announcements will now be done weekly via video for each classroom because of our staggered schedules. If you're at home, you can check them out the new season of WBFTV on Youtube here: https://www.youtube.com/channel/UCxPQeXqm2lFwH5cMF-c7LUg
Parental Involvement
Volunteers are an integral part of the successful operation of Woodbridge Farms. Every parent of a Woodbridge student is automatically a member of the Parents' Association. Stay tuned for details about our first School Council/Parents' Association meeting which will take place near the end of September. EVERYONE is welcome to join us and your input is valued!
SEPTEMBER 2020
Sept 7 Labour Day – No School
Sept 8 At-home Learning Starts
Sept 21 School Photos (M/W Kindergarten)
Sept 22 School Photos (whole school)
Sept 26 Terry Fox Run
Sept 30 Orange Shirt Day
OCTOBER 2020
Oct 3 World Teachers' Day 
Oct 7 Early Out 2:12 PM 
Oct 9 Monthly Update Published
Oct 9 Professional Learning Day - No School
Oct 12 Thanksgiving Day – No School
Oct 13 Interview bookings open https://www.schoolinterviews.ca/ 
Oct 20 Retakes
Oct 27-28 Parent/Teacher Interviews (Virtual) 4:30-7:30
Oct 31 Halloween (PM activities)
Division Information Items:
Update Your PowerSchool Information
The "Correction and Verification Form" is now available online through your PowerSchool Parent Portal. Families can use the form to access and update their child's information—including address, parent and guardian information, emergency contacts and any medical information. Reviewing and updating the form ensures the school has the most up-to-date information regarding your child. In particular, please pay close attention to all phone numbers, email addresses and emergency contact information. We will undoubtedly continue to have important information to communicate with families throughout this school year—whether your child is registered in in-school or out-of-school learning—and we want to ensure you receive this information. If you haven't already done so, we ask all Woodbridge Farms families to review their child's PowerSchool information by Sept. 20, 2020.
For more information about the PowerSchool Correction and Verification Form, contact the school directly.
Enhancing Literacy and Numeracy
As part of Elk Island Public Schools' (EIPS) ongoing efforts to enhance the literacy and numeracy of students in all grade levels, the Division is once again administering the STAR 360 and Math Intervention/Programming Instrument (MIPI) assessment tools for all in-school learners in the 2020-21 school year. The tools focus on literacy and numeracy, are digitally based and offer an opportunity for students to demonstrate their learning. The goal: To provide timely information to teachers, help enhance classroom instruction and ensure student learning needs are identified.
At three points throughout the year, EIPS in-school students in grades 1 through 12 will complete the STAR 360 assessment, which evaluates reading comprehension. The assessment takes approximately 20 minutes and is administered on a digital device. At least once throughout the year, in-school students in grades 2 through 10 will complete the MIPI assessment, which is a mathematic screening tool used to inform teachers about a student's math skills. For students in grades 7 through 10, the MIPI takes approximately 50 minutes, and for students in grades 2 through 6 it takes approximately 20 minutes. The results offer the teacher a clearer picture of a student's learning needs and help determine if subsequent instructional planning is required.
The scores of the assessments aren't used toward a student's grade, and there is no need to study ahead of time. The tools simply provide the teacher with information to better understand where each student is in terms of reading comprehension and mathematic ability. If, after analyzing the results, it's determined a student can benefit from extra support, the teacher will contact the family to discuss possible support strategies.
For more information about the Division's STAR 360 and MIPI assessment tools, contact EIPS Supports for Students at 780-464-3477.
Quick Facts: Video surveillance
Did you know each EIPS bus is equipped with video surveillance? Video surveillance and equipment helps:
ensure the safety of all students, drivers and property; and
discourage destructive acts.
On a regular basis, EIPS Student Transportation reviews the video recordings, in accordance with the Freedom of Information and Protection of Privacy Act (FOIP). The recordings assist the department with monitoring student and driver conduct and may be used as evidence in a disciplinary matter.
For more information about the collection, use and disclosure of personal information, contact the EIPS FOIP Co-ordinator at 780-464-3477.