Back to all posts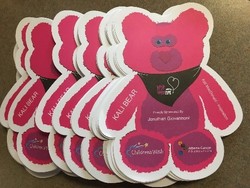 We Act Update
The WBF We Act team is proud to announce WBF raised $740 for the World's Longest Hockey game. This was achieved through staff donations, to wear jeans for a week, a bake sale and gold ribbon sales. Thank you to everyone!
To support two of our WBF family members and others dealing with cancer, the We Act team, and entire WBF community, will be supporting the Hair Massacure Foundation throughout March. Gold ribbon sales will continue. Bring in a donation of $0.50 or more, and get a gold ribbon to wear. Pinning a gold ribbon on shows others that you support the awareness of pediatric cancers. These are on sale in the office. Please feel free to come in and purchase one.
We Act members will be selling paper Kali Bears. The bears will be put on display, with the purchaser's name on them. Bears will be on sale, for a minimum donation of $2, every Monday and Wednesday, throughout the month.
If you wish to make a donation online please do so at https://www.registrationlogic.com/secure/FundraiserSearch.aspx?E=3329 WBF has set a goal of raising $2500 from donations, and ribbon and bear sales.