Back to all posts
Posted on
Year End Update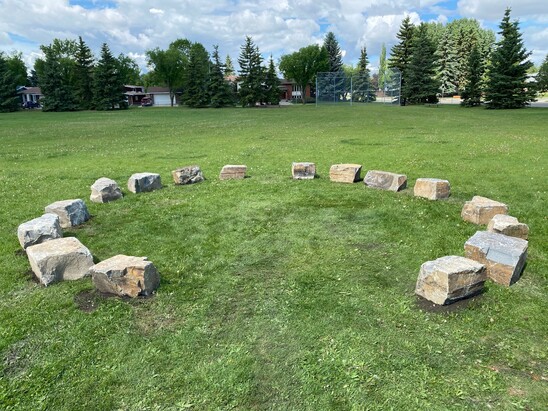 We made it! This has been a long year filled with many ups and downs. We have appreciated your support throughout the year as we have managed school under continuously changing restrictions. Despite the many challenges, we have had a successful year. Students have been safe, have been learning and school has been FUN!
If you're still interested, yearbooks for this school year can be purchased here:
https://ybpay.lifetouch.ca/Order/SelectJob
Use the code: 13425921
You may have noticed the front of our school has undergone a facelift. Over the past few weeks we have had a number of parent and staff volunteers come down to the school to help shovel, trim, rake and paint. The front of the school now looks amazing! Thank you to our Parents Association for supporting this endeavor!
We have also added a permanent feature on the school grounds. Our stone circle is an outdoor learning space and gathering place for the community. We are so excited to have the opportunity to use this space over the coming months and years and welcome everyone in the community to come take a look and experience it for themselves. Under the guidance of Elder Bert Auger we were able to make this gathering space happen with the support of Strathcona County (Community Change Grant) and our own Parents Association. 
Class Configuration Change
Due to lower enrolment than projected in February, we have had to make a change to our planned class configuration for the next school year. We will have to reduce our school by one full classroom. This will mean we have one less combined class, but it will result in a higher number of students in each class. Here is our new class configuration, excluding our system program classrooms:
Kindergarten - Monday/Wednesday - Mrs. Siminick
Kindergarten - Tuesday/Thursday - Mrs. Siminick
Grade 1 - Mrs. Anderson
Grade 1/2 - Mrs. de Wynter
Grade 2 - Ms. Squair
Grade 3 - Mrs. Gerke
Grade 4 - Ms. Zarowny
Grade 5 - Miss Jossy
Grade 5/6 - Mr. Baker
Grade 6 - Miss Triska
2021-22 School Supplies
School supply lists have now been updated for the 2021-22 school year. You can view them here:
https://www.woodbridgefarms.ca/parents/supply-lists

Mrs. de Wynter's grade 1/2 split class will be using the grade 2 school supply list. 
Parents can check to see which teacher their child will have by using the Parent Portal App in July.
Summer Wishes
On behalf of Woodbridge Farms staff, we want to wish everyone a healthy, relaxing summer. As restrictions are easing for us all, we will have the opportunity to once again connect with our family and friends. Never again will we take the importance of connection for granted.
We will see you all in September!